Boomtown 2023 : Lineup, Sustainability & What To Expect
Boomtown is without a doubt one of the most refreshing and diversely unique offerings to the UK festival scene today. First founded in 2009, the festival is held annually on the Matterley Estate in South Downs National Park, near Winchester in Hampshire, where an estimated 65,000 people congregate every year for an event like no other. With this year marking their 15th birthday, Boomtown 2023 finds itself entitled 'Chapter 2 – The Twin Trail' – and being hosted from the 9th until the 13th of August, this years instalment acts as a sequel as such to last years 'Chapter 1 – The Gathering'.
This year, Boomtown happens to fall on the same weekend as the 50th anniversary of hip-hop; with the lineup now announced, it's only right that the organisers have booked some legendary names in the hip hop scene, as well as newer pioneers and those still carrying the torch of the traditional hip-hop sound. At the tail end of last week, Boomtown announced their highly anticipated festival lineup, with major names such as Loyle Carner, The Prodigy, Cypress Hill, Nia Archives and so many more all being unveiled as artists to culminate in the Downs. With 13 stages all consisting of differential strong lineups, there is something for everyone at this years Boomtown, and with ticket sales close to being sold out – there's little time left to secure yours before the event starts.
This year, the festival starts on August 9th running through to the 13th; Boomtown hosts a diverse mix of bands and artists and has been championed over the years for providing one of the best festival 'experiences' there is to have. Amongst creative displays and art shows, there is also great emphasis on sustainability. "Boomtown is continuing to work towards its pledge to become a circular festival by 2026 and have both new and ongoing initiatives to help towards this goal, including the use of an innovative new plastic-free paint that will be used for set and scenery design".
"The line-up this year has been so carefully crafted to include artists that represent the unique personality of Boomtown," explains James Cousins, Head of Music at Boomtown. "Whatever your flavour, you'll find it at Boomtown, whether you're into the heavy-hitters or you want to explore new artists who are spreading through the underground. I'm really proud of this line-up, we've secured artists that we've been trying to nail down for years, and there will be some really special moments."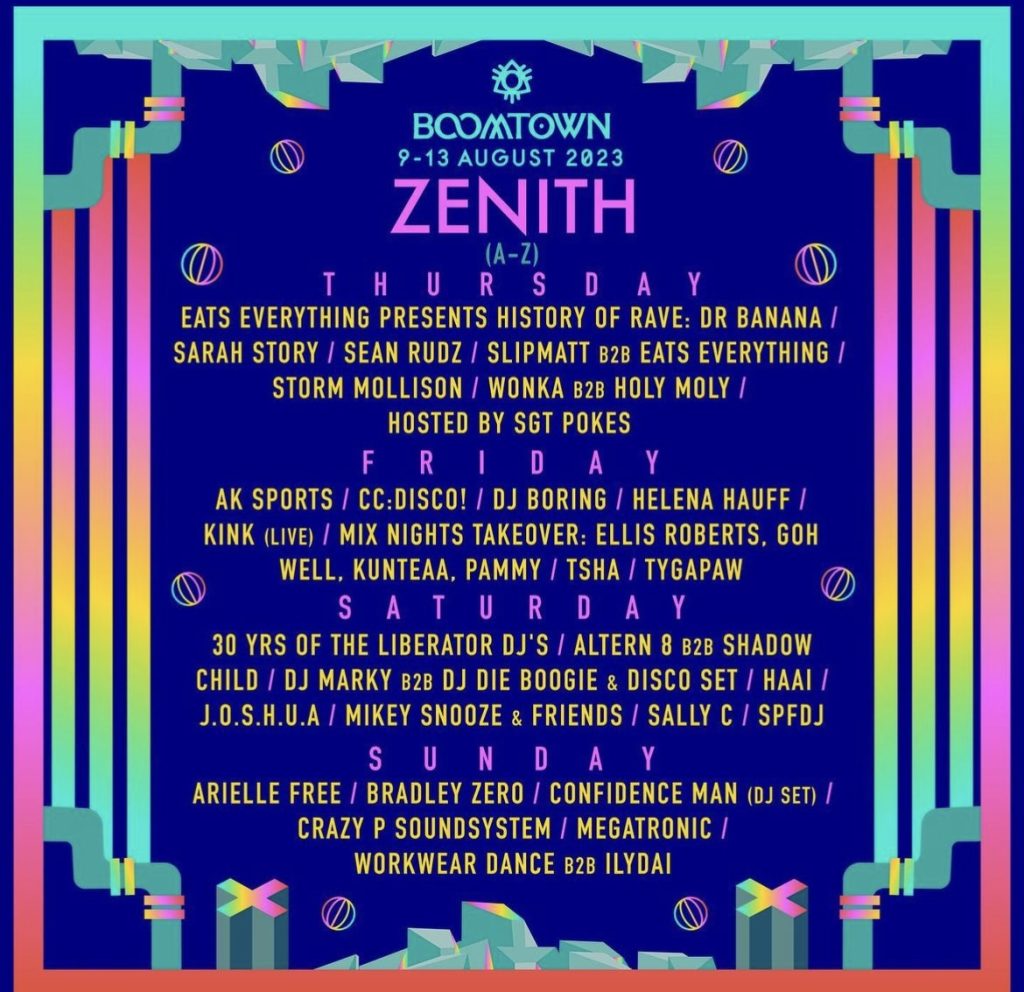 What we can expect is a great weekend of music – organised by a great group of innovative people. With stages set to host an incredible roster of artists on the drum and bass / garage / techno front such as Hedex, Serum, Sub Focus, Andy C, Interplanetary Criminal, Girls Don't Sync, Nia Archives and Sammy Virji to name a few, it's almost time to get the raving shoes on. With 65,000 + people expected to travel to the South Downs in two weeks time, we can all get prepared for what is bound to be a great gathering at 'The Twin Trail' in just under two weeks time.
Tickets can be purchased here :