Overmono Showcase Their Genius At Encapsulating Sold Out Roundhouse Show
Rapidly establishing their name as leading pioneers within the electronic music scene, Overmono are without a doubt one of the most undeniable talents that the International music scene has to offer right now. Renowned for their exploration of a bass driven, experimental electronic sound that incorporates elements of rap, garage and jungle, the mass appeals have turned to the UK based duo as a means of escapism from the musical normalities of stereotypical rave material, with a discography expansive enough to cater for different preferences, moods and taste. When tasked to use descriptives to elaborate on the sound of Overmono, one struggles to find anything somewhat measurable to the encapsulation radiated from their music; you just have to listen to get it. 
The last year or so has been nothing short of crazy for the duo, performing countless sold out shows and playing festivals around the world to crowds made up of thousands – myself included. Having first seen them perform live at Barcelona's Primavera Sound back in June, the 5am sunrise set left me audibly in awe – an unforgettable experience that will easily go down as my favourite festival set ever. So, when the opportunity to attend their sold out London Roundhouse show on Wednesday night arose, there was never any doubt in my mind that Chalk Farm was the place to be. 
Having arrived shortly after 7:30, charging up the venue already on arrival was support act Fold, who notably performed at Manchester's WHP just two weekends ago for their special Boiler Room event. Throughout the next hour and a half, The Roundhouse was so slowly fill up with an anticipatory crowd ready to hear the musical genius of Overmono live. Taking to the stage shortly after 9pm themselves, the duo came to the stage to a rapturous applause – opening up their set with 'Feelings Plain'.
Something that I have detailed more in my upcoming editorial about Overmono's pioneering documentation over the last few years, the duo mixed in latest collaboration with Kwengface and Joy Orbison to their set as their third track – a creative bridge built between the electronic scene and the drill scene. Gaining an alternative stance on UK drill and a window of opportunity for experimentation within the genre, Kwengface's original track is redeveloped with heavy kicks and enchanting bass – a unique and immaculately executed concept.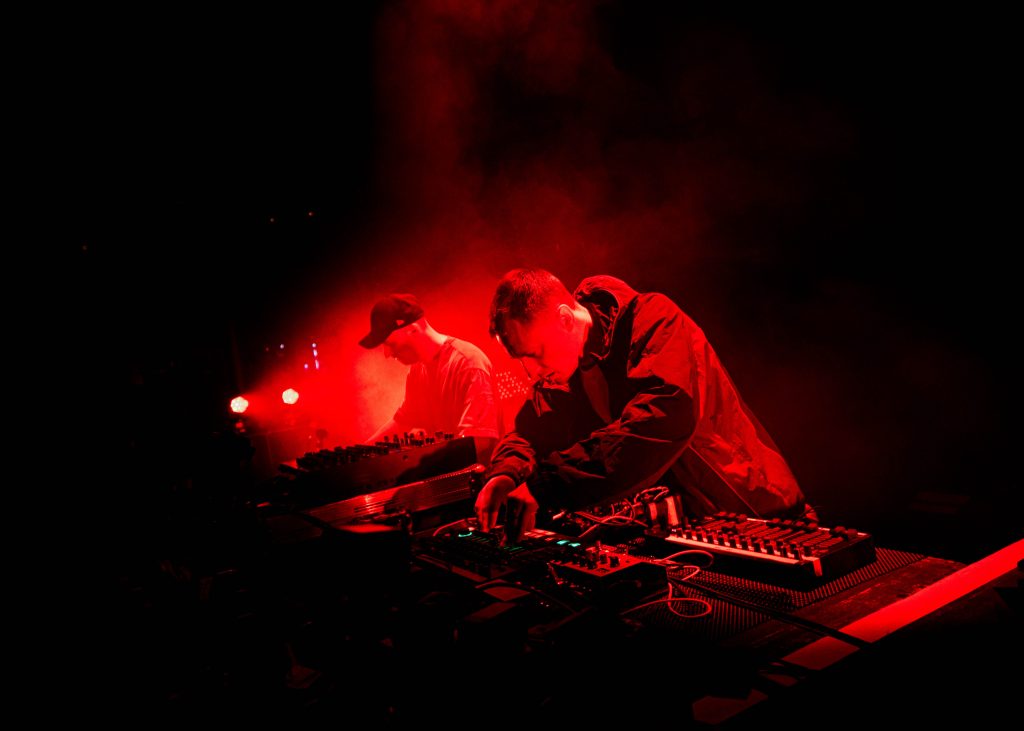 Playing fan favourites If U Ever, So U Kno, BBY and Is U – Overmono also expanded their setlist with their 'Turn The Page' remix, sampling The Streets' original track which a huge joint from their 2002 critically acclaimed album 'Original Pirate Material'. Again, this is a perfect example of Overmono blending the past with the current, creating a track reminiscent of older raves with newer ones. Coming to perform as a special guest, the duo brought out For Those I Love, a spoken word/vocalist who works on dance tracks hailing from Dublin. Performing their collaboration in moving track 'I Have A Love' – the stage FX and animation went hand in hand with the perfectly narrated track, offloaded with an emotionally charged build up and immaculate climax.
Performing a setlist that ran just more than an hour, Overmono ended the evening with 'Good Lies', another fan favourite. As for the audience, the mixed demographics of ages was visual proof that the music speaks for itself; a seamless blend of the younger and somewhat older generation. The Roundhouse venue felt like the perfect place to encapsulate the sold out audience, a great sound system that didn't certainly didn't disappoint. Electronic music is timeless, and where Overmono attract original fans of the genre by their elemental infusion of classic features, they also have attracted a brand new audience in the younger generation, helping to keep the genre very much alive with the incorporation of newer vocal samples and upgraded basses and synths.
There is no doubt that Overmono are one of the most exciting duos around right now. It feels as if everything they touch turns into gold, and their creative innovation and strive for a new sound in the industry is nothing short of a testament to their journey to date. If you ever get the opportunity to see them perform live, make sure you jump at it.
Rating : 4.7/5