Top 10 African Players In Premier League History, Ranked
Have you ever asked yourself? 
In the thick of Black History Month and the Premier League, we have enlisted 10 African footballers who cannot be forgotten, for all of the reasons listed below.  
(Okay, okay – this is a big (and passionate) conversation so you want to stick around until you get to the honourable mentions.) 
10. JAY-JAY OKOCHA
Starting this list was probably the most challenging thing but I had to begin with some flair – and this Nigerian trickster changed the game. Joining in the summer of 2002, after the World Cup, Okocha instantly became a fan favourite. Although his time at Bolton was quite short and injury-filled, the legacy he created is undeniable. Within two years, Okocha was made captain and led his team to the cup final – along with scoring the goal that saved Bolton from relegation! His confidence on the ball and unique trickery is truly one of a kind so he had to make this list. 
9. KANU
Nwankwo Kanu. The second Nigerian on this list and what a player he was. A member of the infamous Arsenal Invincibles, the 6'6 striker wasn't a prolific scorer but his work rate and creativity lands him at #9. Not to mention, the iconic hattrick against Chelsea in 1999 – 'Kanu believe it?'.  
Coming off the bench and changing the game with his neat foot techniques, the two-time Premier League winner is the true definition of a 'super sub'. 
8. KOLO TOURE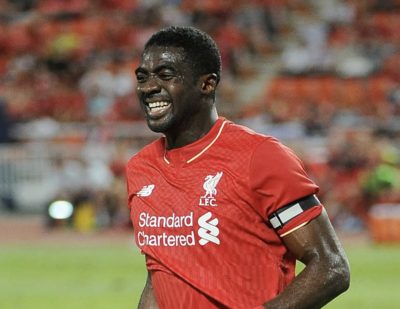 The Ivorian hard man. A true no-nonsense centre back. Yet another member of Arsenal's '03-04 Invincibles team – there was no way he couldn't be on the list. His physicality and aerial presence were unmatched. Kolo Toure became the backbone of the Arsenal defence within his seven years at the club. The Ivorian defender went on to play for Manchester… where he won the league again. Eventually ending his time in England at Liverpool, Toure made 353 Premier League appearances with 108 clean sheets. Not bad for the £150,000 price-tag. Still… expect another Toure on this list. 
7. LAUREN
Alright, I know what you're thinking. No. This is not some elaborate list for the Invincibles but Wenger did have an eye for some pretty decent African talent. Decent is definitely an understatement for the Cameroonian right-back. Lauren was vital in both of Arsenal's title wins in the 2001-02 and 2003-04 seasons. His consistency and intelligence earns him 7th place on the list. Oh… and he scored a winning penalty against Spurs to help clinch the league in 2002. Legendary. 
6. SADIO MANE
The Senegalese sensation. He was a dime discovered by Southampton as he bursted onto the Premier League scene from Red Bull Salzberg. Two years later, Liverpool snatched him for £34 million and the rest is history. Sadio Mane is one of the most decorated African players in the league: a Premier League winner, a Champions League winner, a Golden Boot ('018-19) winner and named in the PFA Team of the Year, three times! He has become a fundamental player for Liverpool manager, Jergen Klopp, because of his goal-scoring abilities, agility and creativity. Sadio Mane is truly a world-class winger. 
5. MICHAEL ESSIEN
This list couldn't go on without my fellow countryman. The great Michael Essien – the epitome of a defensive midfielder. A strong midfielder going forward and defending, Essiesn was a part of a great Chelsea squad. His versatility also makes him an African great as he can play centre-back and right-back. Possessing tactical awareness, work-rate and physicality were qualities that made him one of the best midfielders in the world. Oh, and that memorable strike against Arsenal is enough for 5th place. 
4. RIYAD MAHREZ
The Moroccan magician! Mahrez' footwork looks like he is dancing on the pitch. Usually taking defenders for a two-step, he is one of the best wingers on the ball. His flair and ability to cut inside his lethal left foot has been the reason for his three-time Priemer League wins. He became the first Algerian to win a Premier League medal with Leicester City in a memorable season that saw the underdogs lift the title! Riyad Mahrez joined the club in 2018 and added to their strengths, becoming one of the best wingers in the league and the world. 
3. MO SALAH
The Egyptian King. He joined Chelsea in 2014 but couldn't break into the first team due to loan spells and failed to make an impact on the team. Salah went on to join Roma permanently for a year, only to return to the league with a vengeance. He scored 32 goals in his debut season, breaking a Premier League record for most goals scored in a 38-game season. 
Joining Liverpool in 2017, he has scored 101 goals in 152 appearances which makes him one of the fastest players to reach 100 goals! Salah's speed, movement, excellent dribbling skills and clinical finishing helped Liverpool end their 30-year league title drought. He has become a global figure, with songs that reference him, magazine features and even has a Madame Tussauds wax figure. A stellar player and – right now – one of the best in the world.
2. DIDIER DROGBA
When you saw a slick perm, headband and white wrist tape? You knew you were in big trouble. It was the great Didier Drogba, the Ivorian beast. A four-time Premier League winner renowned for his aerial presence, hold-up play and speed, the baller is described as the true definition of a target man. He is also known as a big game player as he typically scores vital goals on big occasions. Despite being a striker, Drogba is versatile and is capable of assisting his teammates with 71 assists throughout his career at Chelsea. For that reason, he is a Chelsea legend and one of the greatest African players ever. 
1. YAYA TOURE
I told you to expect another Toure on the list! Yaya Toure. 
It was hard to decide between first and second place on this list as I admire both players, but what I have seen Yaya Toure do on the pitch with my own eyes is insane. A true powerhouse. He is the complete midfielder and I'm convinced he has an engine built in his body. He joined the league in 2010, winning Manchester City their first major trophy in 35 years – as he scored the only goal in the FA cup final. That was only the beginning of his service at the club. 
Winning 3 Premier League titles, Toure was a box-to-box midfielder with goals and assists in his game. His special ability to tackle in his own end, carry the ball to the other end and score makes him one of the best midfielders to grace the Premier League. I believe he's underrated and a key part of Man City's success, scoring 20 goals in the 2013-14 Premier League season. He's one of the best players the league has seen and holds the #1 spot for me. 
HONOURABLE MENTIONS: Tony Yeboah, Yakubu, John Obi Mikel, Eric Djemba-Djemba and Samuel Eto'o.