Cyn Santana Talks 'Redirected Energy', Love & Hip Hop And Mental Health
You may have seen her on-screen, but, as Cyn Santana will gladly remind you, you actually know nothing at all. Not really. As the new songstress rolls out her debut EP, I was able to steal a moment with her amidst her hectic schedule. Finding a quiet spot in her car, Cyn allowed me access into her world – whilst on set – through harmless girl-chat. Much like her introspective 9-track project, the reality-star-turned-singer approached our discussions with vulnerable yet assertive energy. Tap in!
Transitional phases are inevitable and just the way mother universe is set up. Sometimes the only thing you have to do is redirect your energy. – Cyn Santana
"I'm so geeked to catch up with you. How is life treating you – mind, body and soul?"
C: I'm the healthiest, happiest and most fulfilled I've ever been in my adult life!
"Describe the experience of being an upcoming artist on such a viral reality TV show?"
C: It's a gift and a curse. You get to live a dream job but also live your life in front of millions of people with opinions. I give but still keep my private life sacred. Its helped me build a support system and a career. Music is something I've done my entire life, I was just waiting on the right moment.
"Is it difficult breaking away from Love & Hip Hop and all that comes with it?"
C: People think things must be super easy for me because I have the following from reality TV, but I'm trying to grow one that supports the artist. I'm figuring it out. Love and Hip Hop hasn't been bad for me but right now, my music comes first. I enjoy it but music is what I'm gonna do for the rest of my life.
"Officially putting out music in 2019, what were you afraid of before?"
C: I guess stepping out of my comfort zone and the responsibilities that come with it. I love singing but I knew nothing about the industry and I'm independent. I knew it wouldn't be simple. There was fear of people not accepting me – all these things, but they don't really matter.
"What has the independent experience been like so far?"
C: Still learning. I'm enjoying it and enjoying my freedom. It took me a couple of years, but I have a solid team and we're making big moves. Everyday you take note and apply. It would be dope for me to stay this way because I like to have control of my sh*t.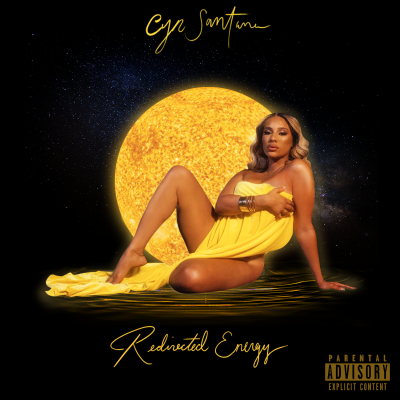 "What inspired you to work on putting the 'Redirected Energy' EP together?"
C: Besides my passion for music, at the time I was going through depression and things. It was the healthiest way to vent, and a form of therapy. I met people, like my producer and songwriter, that were hungry and wanted to work. I had a heavy heart and so I turned my thoughts into songs. It makes me happy that people are resonating with it.
"What are some things you really wanted your EP to embody? Moods, values etc?"
C: The mind is super powerful and it's where we should start, not the heart! Mental health is first and if its positive, that can take you places. I wanted to put listeners in that place. I know what music has done for me so I wanted to give a bit of that.
"How is mommy life balancing with working life?"
C: Oh, its tough! It's a combination of figuring what's best for you and your child – mommy guilt is real! My field is spontaneous, long hours and hit or miss. I remind myself that I'm working for my family and always give my son undivided attention. I try to bring my son with me, but I'm protective of him being in those spaces. I just want him to have the best life ever.
"What is your ideal scenario for your music progression?"
C: I don't have an ideal situation, I just wanna sing and go. I don't care about numbers or time, and I won't. I'm so big on protecting mental when it comes to that.
"So before we go, tell us who's currently on your playlist?"
C: I'm listening to Cyn Santana of course! I'm listening to Ella Mai, HER and then, Sade – I love me some old school R&B. I still got RiRi's "ANTI" album playing – I need her to drop something asap! I got Pop Smoke on there, rest in peace.
"Who would you like to see yourself one day working with?"
C: I really really really wanna work with Timbaland. My whole life I've idolised J Lo. I feel like me and Rihanna could do a dope ass song.
"Ok, sis I'm gonna have to let you work! Aside from music though, talk about your investment into people…"
C: For sure, I've already started working on that. I'm obsessed with souls and wanting to help. I won't be fulfilled until I do something meaningful for women; there's so many different things we go through. I'd love to build a programme for Caribbean schools – so there's definitely something in the works.
Give Cyn's "Redirected Energy", a spin here and stay plugged into Mixtape Madness for more exclusive conversations!