In Talks With Capital Dance: Celebrating One Year With MistaJam + KG
Capital Dance is the hearty offshoot of the UK's prominent Capital brand, home to the UK's no.1 hit music station, Capital, and Capital XTRA – formerly Choice FM. كيف تربح المال من الانترنت Now, of course you know Capital Xtra for being the platform that nurtures the likes of Hip Hop, Grime and R&B genres. You might even appreciate locking into 96.9 FM on your drive home after a night out. If you know, you know! 
What we now recognise as Capital Dance, was actually an innovative proposal during the bleakness of lockdown last year. British broadcasting legend, MistaJam, shared his vision and spearheaded the Capital Xtra spinoff until it came to fruition on October 1st 2020.  
"I'm not just in front of the microphone here. I'm behind the scenes here. I'm part of the decision-making process – something I was never allowed to do in the past. When we do Capital Dance, we do it together." 
Recently, I was invited to visit the studio as they celebrated a full year on-air.  
Picking up a party hat as I awaited the presenters instantly set the celebratory tone and I was filled with excitement, knowing that this landmark would make for the best of retrospection and inspiration.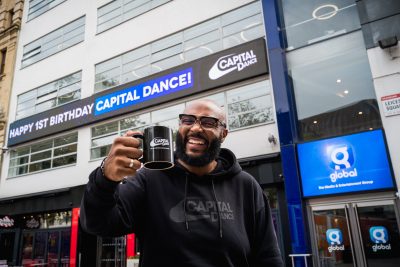 So, aside from the difference in name, what makes Capital Dance a separate entity? 
"If you turn up Capital Dance at any point of the day, you'll hear uplifting dance music. It's about that energy. That's the important part of it for us. Dance music is growing – it was taken away from its roots, but now it's coming back. You're hearing AJ Tracey and all these rap artists sampling dance music. Now is the time to make people aware of where it comes from and what it is." 
A stellar answer.  
Whilst listening, it seemed as though the essence and history of dance music had almost faded in our culture's memory. The majority have turned their heads toward the dominating genre. Similarly, MistaJam recalled grime being the apple of everyone's eye just over a decade ago. The DJ and I eagerly unpacked this and even laughed about the very present 'oonts oonts' stigma many have toward dance music. Myself included. 
"What I'm doing right now is the breaking of the glass ceiling. I'm working somewhere where people trust you and back you – that was something I hadn't experienced for a long time. People forget that black music and dance music is one and the same. House music was invented by the black and gay community in America. You've got me and KG, you've got representation…" 
Let's make 'oonts oonts' music cool again, shall we? 
Still, for the presenter-actor that landed his first few gigs at 14, the love of dance music is unwavering. 
"Everything!" he said beaming. 
"I can hear the quality in everything. The music is an energy. That's what I really really vibe with. You just feel it. When you're feeling low and you put on something energetic or some gospel, it touches you. قواعد لعبة بلاك جاك It's a universal language – being able to play music for people and change their vibration. Uplifting and being of service to people is just something I always wanted to do." 
It's no coincidence that fellow Capital Dance presenter, KG, echoed his sentiment when we met upon her arrival at the studio. In reference to a tweet I shared with the 'Rhythm Goddess', KG explained how joining six months in was indeed similar to joining a series in its fifth season. 
So, I asked her to describe her experience, so far, in one word and tell me why: "Rewarding. It's an affirmation of the groundwork I've laid over this past decade. I mean, being in the same room as MistaJam – it doesn't get more gratifying than that, does it?!" 
One year of sending feel-good vibes and the magic of dance music into the national airwaves is no small feat. As time went by with both radio hosts, I grew to thoroughly understand the magnitude of their early morning celebration. قوانين البوكر  
"There was no route. I didn't have that many people to look up to. We had people like Sasha Brookes… I could look toward Trevor Nelson, Semtex – other than that, that was it. I remember asking Semtex to be a part of his SONY street team…" 
The journey to launching the relatively new station very clearly holds a significant amount of weight for all parties involved. As we pieced the makings of Capital Dance together, there was a certain air in the room – one you had to be present for. As MistaJam, KG and I conversed, one thing was made clear to me: this is a win and a win that is being shared with others. 
"I was in spaces where I'd be the only black face, making sure the door was open. I remember helping Sian (Anderson) get into the space she's in, and to see her do what the previous generation had done for her– that's the important thing for me. The glass ceilings that I've hit, where I am right now is testament to the fact that you can break through."  
Lock into Capital Dance: breakfast and drive shows Monday to Friday, followed by an evening show Monday to Thursday!