We sat down with young rapper and singer Idi Akz, following his latest album release. The talented young artist, who is making music alongside his college course emerged on the UK scene when his first single "Two Years Clear" went viral on TikTok. The success of his his initial track, which fuses melody and rap, talks of raw emotion and anti-love agenda, caught attention of the UK scene and he was featured on MM's Next Up in December 2021. His first song was released when he was just fifteen years old, and in the two years since his release Idi Akz is growing fast.
Growing up in Burton on Trent, as the only black person in his entire year, Idi spoke of the difference in his upbringing compared to other rappers from London, and positively uses his different environment in his music to create a unique sound that transcends his age with its maturity.
Your latest track, "Squeeze" has just come out, how have you been feeling about its release?
I'm happy, I'm happy about "Squeeze". I feel as if with a song like "Squeeze", I'm able to show a different side to myself musically. The chorus is a lot more melodic than some of previous music before the project, which I feel like is a good shock to people, and at the same time I'm kind of teasing another sound that I'm going to go into as well. 
Two of my friends, who are also artists are the features on the song makes it more fun to make. It was the first time I'd worked with them musically. I made friends with them through music, through networking and what-not. They're both from London. 
What was the creative process behind "Squeeze"?
Originally, when I recorded it, the whole song was melodic, it was a solo track. The topics I talk about are coming from an environment where people automatically see you in a certain way, because of the area or the city you come from, or your background, or how you act. Because the whole song was a melodic song, it was so far away from my original sound, I thought it was a risk for me to release it now. So I thought, okay, I'll put it in a project and get two other rappers on it, and give it a melodic chorus, to give it that glue. 
I find it hard to have confidence in the music I release sometimes, but I remind myself that versatility is important. As much as people may like you for a specific sound, or specific topics, as an artist you will have phases where you want to do different things, in terms of beats and topics. For someone who is not familiar with my previous music, I want them to be able to appreciate it.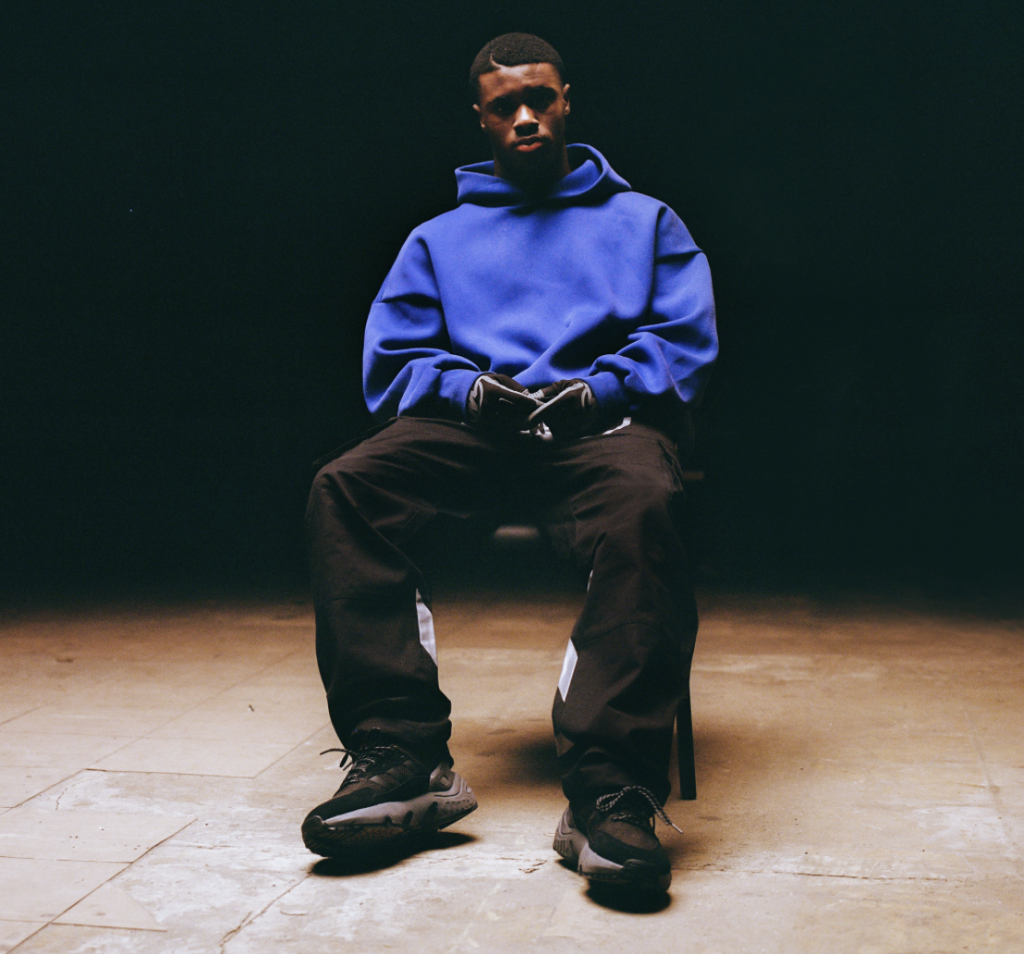 What was the reaction like from your friends and family?
My dad literally loves it, he loves the melodic version, it's one of his favourite songs. My friends were shocked though because if I am to sing, it's only in church. I don't tend to sing that much in my music, so it was a shock for them, but a good shock, they did like it and encouraged me to do more of it. 
I first started singing in church. When I moved to England from Nigeria, I started singing. I stopped when I was twelve, and my voice broke, because I didn't have confidence in my voice. I picked it up again relatively recently. My mums is a singer, she leads a choir, so she likes me singing. My dad played the drums, so both my parents had influence me getting into music. 
Would you ever have your mum on a track with you?
I would love to, but I don't think I could convince her. Even my sister, she sings too. When she gets to a stage where she's confident enough, I'd love to get her on. 
Do your parents listen to all of your music?
I've got a song on my EP called Vintage, and there are two sections in the song where I swear. I remember being in a label meeting, and they were playing the tracklist. My dad was there on a video call, and we could see each other. My mum was opposite me. When the song came on, they didn't realise it at first, but about halfway through they clocked it. I ended up having to censor it, for their sake. 
Living in Derby, do you find it difficult to connect with London artists when you work together on tracks?
Personally, I don't find it difficult. A lot of the time when we reach out to each other, they just assume I'm from London anyway. When I tell them I'm from Derby, they're always like where's that? Sometimes it's a bit long. I wouldn't bring any of my London friends to Derby, I don't think they'd be very impressed haha. 
How come you have your song titles as acronyms?
With "LTC", and "Leave This City" as it's the track title and the title of the EP, I didn't want there to be confusion. With "Does She Love Me", I thought the song title was too long, so I shortened it to "DSLM", so it flows better and isn't as hard to say. Some people didn't realise what it was, bare people were like what does LTC stand for, it shocked me. 
Where do you take inspiration from when you're writing music?
Whenever I write lyrics, I speak from my own experiences and talk about things in a way where it doesn't sound too generalised, so people are able to relate. When I'm writing love-related songs, I listen to a lot of ASH, Billie Eilish and Phineas. The way they put things lyrically, they're not too overt, you have to think. You have to read between the lines, rather than just saying it outright. With my hip-hop-based songs, I look at a lot of J Hus, especially production-wise. I like the fact that he has a lot of instrumentation in his music. That 90s/80s hip-hop as well. 
With "LTC", the sample in it is an Oasis song, "Half a World Away". I went through quite a big phase where I was listening to a lot of Indie-Rock and Alternative music. Without even realising it, I've taken things from there and applied it to my music. Before I lived in Derby, I lived in Burton on Trent and at the time, almost all of my friends were white. I grew up with only one other black friend in my area from primary school. As a result, I was listening to a lot of Indie music, like the Kooks, and Arctic Monkeys. Being in an environment where that's what people were listening to, I didn't feel a type of way about listening to that kind of music. 
When I moved to Derby, I started going to a school that was more ethnically diverse and I didn't broadcast the fact that I listened to that kind of music. I have a few friends from my new school in Derby that I was successful in putting on that music. It was a bit of a struggle at first when I moved when I would go to parties and there were songs that everybody knew apart from me. At the same time though, I did listen to a lot of rap, but it was the older songs that I had never heard of or discovered. But in a sense, it was good, as my approach and understanding of music was different. 
How would you describe your music?
I would call it UK Hip-Hop. Vintage 1 and Vintage 2 especially. "Leave This City" and "Does She Love Me" are more of a Lo-fi vibe though. But at the same time, I like to fuse sounds. 
What do you see coming up next?
I'm gonna be releasing a lot more. I haven't released much in the last two years, before my EP came out I'd only released two songs. I want to release as much as possible, to get myself get back in there.