"We're Not Even At Chapter One Of The Story" – An MM Exclusive With Jordan Ward
Jordan Ward is one of the most exciting artists to emerge from the R&B space in recent years. Born in Chicago but raised in St. Louis, Missouri, the artist came from a musical theatre background before starting his career as a dancer, working with huge artists such as Justin Bieber. Music has therefore always been a key part of Ward's professional journey, eventually becoming a solo artist six years ago. 
Since then, Ward has been on a steady rise which has culminated in his debut album, 'Forward'. The project mixes euphoric sonics and soulful production with a deeper, introspective lyricism surrounding the topics of family and struggle. I sat down with Jordan during his recent visit to London to discuss his upbringing, the meaning behind his album, his inspirations, and his experiences with synaesthesia:
Talk to me about growing up in St. Louis…
For sure, bro. Growing up in St. Louis? I had a great childhood. The city itself is not the easiest – It is a tougher city, but I had a great Mom. I had a great household, went to good public schools, grew up in the performing arts, grew up in church. It was just fun, man. Even to this day I'm inspired by the unique lingo, clothing style, food, and perspective that people had. 
The city has a deep cultural history from Chuck Berry to Tina Turner, all the way through to your generation that includes yourself, Smino, and Metro Boomin. What was it like growing up with that culture around you?
It was dope, man. Shout out Metro Boomin, we went to the same high school. He graduated the year before me and I switched to that school my junior year. It was dope, especially when I was growing up as a kid. You had Nelly, Chingy, J-Kwon, Huey, and Jibbs all on radio, all on 106 & Park. St Louis always just has a different wave. Sometimes the wave can be developing but like you said, going back to Tina Turner and Chuck Berry and even before that to Ragtime and Old Gospel…shit even the Gospel community in St. Louis is so rich, you know? I grew up with local Gospel superstars being on the radio and packed church houses to see people sing. 
You then moved to LA at quite a young age…
Yeah, I moved to LA at 18. Looking back it was pretty crazy but in real time it was something I was prepared for, and I've been preparing for through just growing up. From there I could use a dance studio and branch off into different competitions and conventions and train with different choreographers. It just showed me that it was possible to move to LA and be a dancer and there's a structure for that. Or there's some structure for it. It is wild objectively for a kid to move to LA at that age but I think I was able to do it because I wanted to do it.
As you've alluded to, you come from a dance and musical theatre background. How do you think that's fed into your music at all?
I was getting in trouble at school for singing and dancing, so my mom was like, "you should go to this theatre audition." I think being a part of musical theatre, working under professionals, being a part of doing unpaid work, and sometimes pay when we did professional gigs, it was like I had practice on how to be a professional artist at a young age. At least on whatever level I got to as a kid, you know? I wasn't full time but it gave me an early amount of practice and training, singing, dance and all that. 
And then transitioning to dance. I got into training, specifically on dance because I realised I needed it for musical theatre. So I started theatre when I was eight or nine, then I started training in dance when I was nine or ten. Dance just opened my whole world of music because dance and music are one in the same. I feel like with music,it just has all of the elements of dance and I feel like dance is literally using your body as an instrument to express musical composition. Doing dance training for like 13/14 years before I started actually making music was like me playing the bass for 13 years, you know? I already had an instrument to feel and express music. Also when I was a kid, I just grew up being exposed to so much different music. I would go to school, and it was a real Hip Hop mixtape culture. I was going home, listening to NAS, Jay, Pac, trying to be on my real hip hop shit. I was watching MTV, I was watching 106 & Park, Missy Elliott, Aliyah. Then I would go to my dance studio in the suburbs and they're listening to Dave Matthews Band and like, The Fray, and Kylie Minogue, Little Dragon, Lykke Li, Santigold, M.I.A, and all this shit, you know? It's always influenced me. I would fall in love with songs that way and I would open up.
And then you started making music about six years ago? How do you think your music has evolved?
I've been putting out music for six years now, but I've been making music for about seven years. I'd say my sound has definitely changed and I use more autotune now for fun, but I don't really know how I'd describe the evolution.
That's kind of led up to your project, 'Forward'. Can you talk to me about the meanings behind the title?
For sure. So forward one obviously just represents forward motion. Evolution as a person, evolution in the sound, you know? In our sound, we're not redefining nobody else's sound. We just tried to do something we haven't done before personally. 
Then number two we got 'For Ward', you know what I'm saying? I'm Jordan Ward, I'm the last Ward. I don't have any brothers and sisters with my name so everything I'm doing is 'for Ward', you feel me? It's a dedication to my family and it's a letter to a lot of my family members. Some of the songs sound like love songs because really I'm talking to them.
Number three is 'Four Ward' because this is my fourth project. I dropped a tape, an EP, another tape, and this is the album. The final meaning is that this album is a 'foreword' in my story. This is my debut album so we're not even at chapter one of the story. We stay going back, getting reacquainted and brushing up on stuff.
Out of those four meanings right now, what means the most to you?
(Ward takes a long pause, placing his fingers against his temples in a state of deep thought)
Probably the first is the most important, because you gotta keep this shit moving. Before we can worry about the rest of the family, we gotta make sure I'm straight, you know what I'm saying? When the oxygen masks go down on planes they say to put your mask on first.
You also spoke about being the last Ward, both earlier and on the album itself. Family obviously plays a key part in what you're doing and you even have your Granddad on the album, but does the pressure of being the last Ward weigh on you at all?
For sure, man, for sure. I definitely want to have a big family and I definitely want to be able to provide for the members of the family that I have right now if I have to.
You've worked with a lot of artists on this album. How do your collaborations come about?
It just depends. You know, I will say I really only gold towards places I have an organic rapport. Joony,  I just reached out as a fan like two years ago, because I was just obsessed with his music, and I'm just like, "Bro, your music is amazing." I'd post his shit, and he'd show love back. We just grew to be fans of each other, and homies, so that was organic. Gwen Bunn I've been a fan of for years. I ended up working with Lido who she also works with and he just connected the dots from there. We just became cool, you know? She's super cool. 
Ryan Trey is another homie of mine. We became homies a while back, just met and always kept in touch. I think I reached out to him because I was a fan. And he also realised I was from St. Louis so we had similar friends. So we just ended up running into each other and we just connected but I never really made a song I felt was right for him to get on. Then we made white Crocs and I just sent it to him like "Yo!" and we were just super hyped.
I met Joyce Wrice years ago, we really just been like damn near extended fam. Easton Fitz as well is an incredible artist. I met him through Lido and we just had dope chemistry in the studio.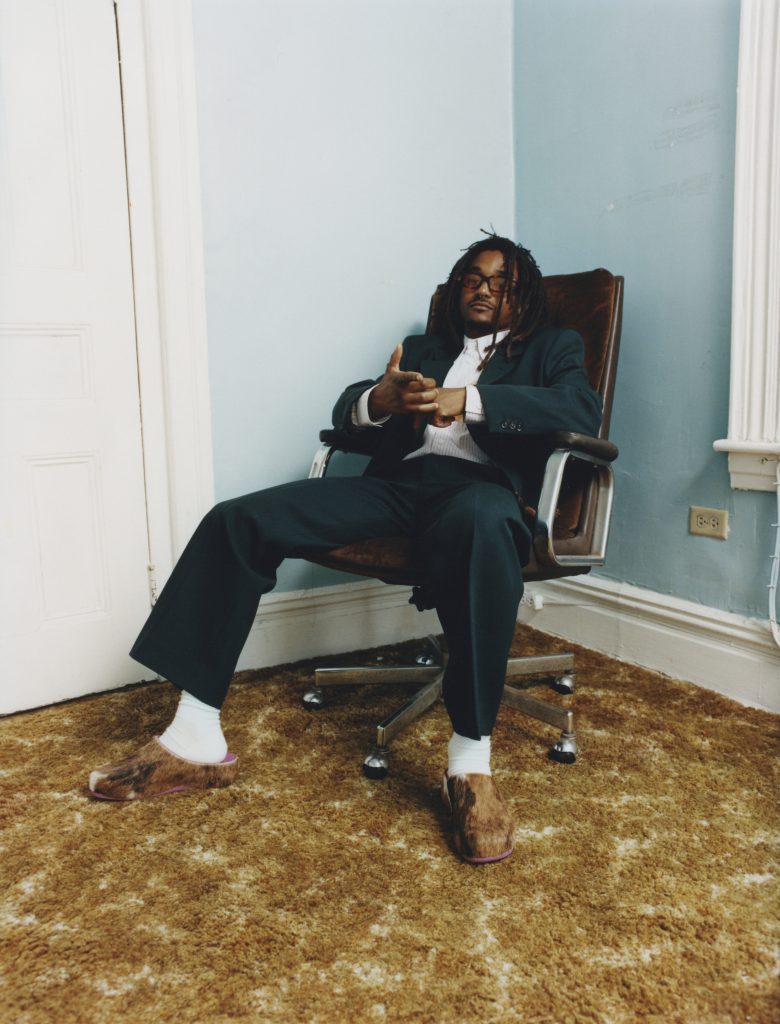 With 'White Crocs', I saw that Tyler The Creator shouted you out. What was that like for you?
Man? That was crazy. Shout out Tyler the Creator man. Definitely one of my GOATs and inspirations.  That was surreal. I feel like I've probably said to myself many times, like: 'Would Tyler do this shit? Would Frank do this shit? Would Kendrick do this shit?" For him to say that he likes what I'm doing is a crazy feeling, man. 
I also wanted to talk to you quickly about synaesthesia. How does that manifest itself for you?
Man, honestly I've been experiencing it, since I really can ever remember and I didn't find out what it was until I was 13. I know this sounds corny but I'm a big Wikipedia nerd and whenever I like something especially in music, I like to read about it on Wikipedia. When N.E.R.D dropped 'Seeing Sounds', I heard the name and I was like, 'What?'. I looked up what it was about and he put me on to synaesthesia. I experience colours when I listen to music and sometimes letters and numbers on a lighter level. 
It influences my music because I don't really have any training in musical theory or anything like that but I feel like the colours allow me to feel it and express something as a composition. I feel like more people than we realise experience some form of synaesthesia. The smell of shapes, feeling songs, tasting the colour blue or something. 
Obviously we're in London today. Do you have any UK artists that you check for?
For sure. PinkPantheress is hard. Bawo, FLO, Mahalia, all hard. Shout out my bro FelixThe1st, Cleo Sol too.
And just finally, after recently releasing your Deluxe album, what do you have planned going forward?
Man, we actually just announced that we're doing a European headline tour. We're doing seven cities: London, Paris, Berlin. Amsterdam, Munich, Cologne, and Brussels. We're doing that in December, and you know, I've just been making music with the homies so hopefully they drop some shit. Yeah, we got some cool performances. We shot some cool stuff last week. Been doing some cool shoots and some cool stuff so hopefully it all comes out soon.
Thanks for your time.
Thank you, man. I appreciate you, Dawg. (British Accent) Cheers!■
Thoughtful, introspective, and self assured, Jordan Ward is an artist who is in the processing of reshaping the R&B genre. His debut album feels like the start of a glowing career and we can surely expect him to reach even greater heights as he evolves as an artist. 'Moreward', the deluxe version of Ward's album, is available now, and the artist will be kicking off his European tour on the 7th of December at London Oslo.