Not3s is a British-Nigerian artist from the Manor House area of Hackney in East London. He broke through in 2017 with 'Addison Lee' and would follow with other hits like 'Aladdin', 'My Lover' and 'Fine Line' with Mabel, and 'Wanting'. Having also collaborated with the likes of Steel Banglez, AJ Tracey, and Chip, he had numerous top 40 hits and features on five platinum songs.
Having recently returned to the scene with a newer take on his sound, he has plenty of new music, including the recent single 'Start Me Up'. But how did Not3s get to this point, and who and what inspired him down this path? We asked this and many more questions in our latest Rooted feature, with Not3s dissecting his beginnings, success at a young age, and the lessons of fatherhood.
What would you say makes Manor House stand out from the rest of London?
There used to be the maddest block parties around here. The craziest block parties (were) from Manor House and Stamford Hill. I used to perform at block parties before I was ever known properly, and I was hood-known, as opposed to being known by the public. I wouldn't say we created block parties, but we showed how a block party can pop off.
And it's in-between everywhere. It's in between Haringey; Islington; Hackney; it is every borough in this one community. Right now, we're in the borough of Hackney, but if you cross the road, we're in Haringey. If you cross the other side of the road, we're in Islington. You get to experience everywhere in such a short distance.
So, good vibes; good connections.
There is a lot of different kind of people. You got the Jews down the road, and they have their own community. It's beautiful to see how they stick together. Then you've got Turkish people down the road in Green Lanes with the whole road basically being theirs in a sense where they own most of the shops down that road. You have an African community here; you have everyone, a mixture of cultures. It's lit here. I don't think I would want to be brought up anywhere else.
You used to record in the studio of your local community centre. What is your most prominent memory of recording there?
I used to have quite a few people come to the studio with me and record in here. Whether it was from South or anywhere in London, (it was) just to see what we can make on Soundcloud and drop for them. Me and the mandem would be in there and vibe out. I made a song called 'Yesterday', which was my first Soundcloud release. That was fun. (It) didn't really get anywhere, but it was fun to do in the first place.
Then I made a song called 'Toju Mi' with somebody who was part of NSG at the time (Dnote). That was very fun because that got somewhere. It allowed me to do block parties and perform at random spaces, even though it was for free. I still wanted to continue to push my music out there as much as possible, in a natural way. I didn't have any backing or management; I was doing my own thing. It was fun recording in that studio.
Big up the youth club staff. They used to open that door for me anytime I wanted to come in here to use it. Even on days when everybody had to do an activity or anything else, they would let me use the studio because they knew my passion for music. I feel like there needs to be more youth clubs. that are just running constantly. (They're) giving kids opportunities for what they want to do, as opposed to what teachers want them to do.
We were all discussing at the start having something like this is important. For you, it has been one of the building blocks in your career. You can see from the songs you've named there it was important to you.
Super important! Even with 'Toju Mi', I got over 100k plays on Soundcloud, and back then, that was a big deal. To the point where my music teacher was slyly jealous and started talking about his Ministry of Sound (items) he owns and all these other things that I didn't care about or had nothing to do with at the time. I was just gassed at the fact that I was capable of reaching that kind of number, essentially by myself, with no management or people there to help that happen.
When I was performing at block parties and if you know back in the day, they would go off. 'Toju Mi', as soon as that came on in the dance, the gyaldem were singing 'Toju Mi'. I felt free in there.
You've shown here why these places are so important to people. It allows them to put themselves out there.
On top of that, I could have been doing anything else. I could have been outside doing stupidness all the time. There was a bit of stupidness sometimes, but I could have been outside continuing stupidness or doing worse than I was doing. But, this place allowed me to escape that and stick to myself, as opposed to being peer pressured to do what everybody else is doing.
I know a lot of the mandem on the block were cool and everything, and I got love for them either way. But I'd rather do what I am doing now than be on the block just doing nonsense.
You seem to be doing alright.
I'm chilling. You know what I mean? I am thankful for it.
What influenced your musical taste growing up?
Probably my mum. She used to have a lot of CDs of a lot of different people's music. Whether it be Joe, Usher, or 50 Cent. Just everyone; Backstreet Boys; random selections of music, but it was beautiful. Mary J. Blige, there was everyone. But, I don't know if you lot have ever had it, but there was a rack that was swirling (with) bare CDs. She would play any of them all the time.
She would even teach man certain songs I wouldn't know like Aerosmith, "I miss you baby and I don't wanna miss a thing", or Alicia Keys. Just tunes that I didn't think I would care about. She would teach me, and I would learn the meanings of them and how much passion these lot were putting into the music. It made me understand to put passion into music and love, as opposed to hatred and everything else.
The fact you have such a wide and varied musical pallet is going to allow you to explore so many different genres and styles of music.
Even my biological father used to produce when I was younger. So, that was his main hobby. Whenever I was around him, it was an ear-opener, and it was nice to hear a wide range of different stuff from both of them. Big up mumsy all the time.
'Addison Lee' was the song that brought you to the public's attention. How do you reflect on that song and the success it gave you?
I'm grateful that I dropped that song. Drill came into the scene around them times with 67; 86. They came into the scene and were popping. It was nice to have some light in the scene, and I was having fun. I didn't mean it in a novelty way; I just wanted to have fun with music, as opposed to being so serious and violent. I feel with 'Addison Lee' it gave me that foot in so people can take whatever else I got coming and all the magic that I had to come. It just made me burst through the door properly. I'm grateful for all the cabs I was taking back then, however, I got them.
After the success of that, you ended up signing to a label. What was that like at such a young age?
I was like 18. I was 19 when 'Aladdin' dropped, but I was 18 when 'Addison Lee' came out, and I didn't sign 'Addison Lee' until six months after it was out. All of the groundwork and the independent stuff done before it became a popular song, was done by me and the guys. Just doing natural things like me stood on top of a random Addison Lee that was parked on the block and filming it, or ImJustBait posting consistently, big up ImJustBait.
That was how it all kicked off, so when it got signed, it was nice, but at the same time, we did it for ourselves. It wouldn't have got the recognition without ourselves as opposed to the label. The label is cool and they did what they needed to do to take it from that ceiling that it was at. I was more excited about that specific song while it was unsigned than I was (when) it was being signed. Solely, because doing the groundwork was fun at the time.
They signed the single, which was cool. Then, I drop 'Aladdin', which they weren't happy about and before that, I drop 'Notice', which they weren't happy about. But, when 'Aladdin' started flying, they had to pick up everything and they wanted to renegotiate the deal and get a tape, as opposed to just a single, which is what everyone thought I had in me. It was nice, but I preferred it when it was unsigned. It was lit when it was unsigned, just because of the hard work we had to do. I like those sides of things because it is fun. Big up Relentless either way because they did their thing regardless.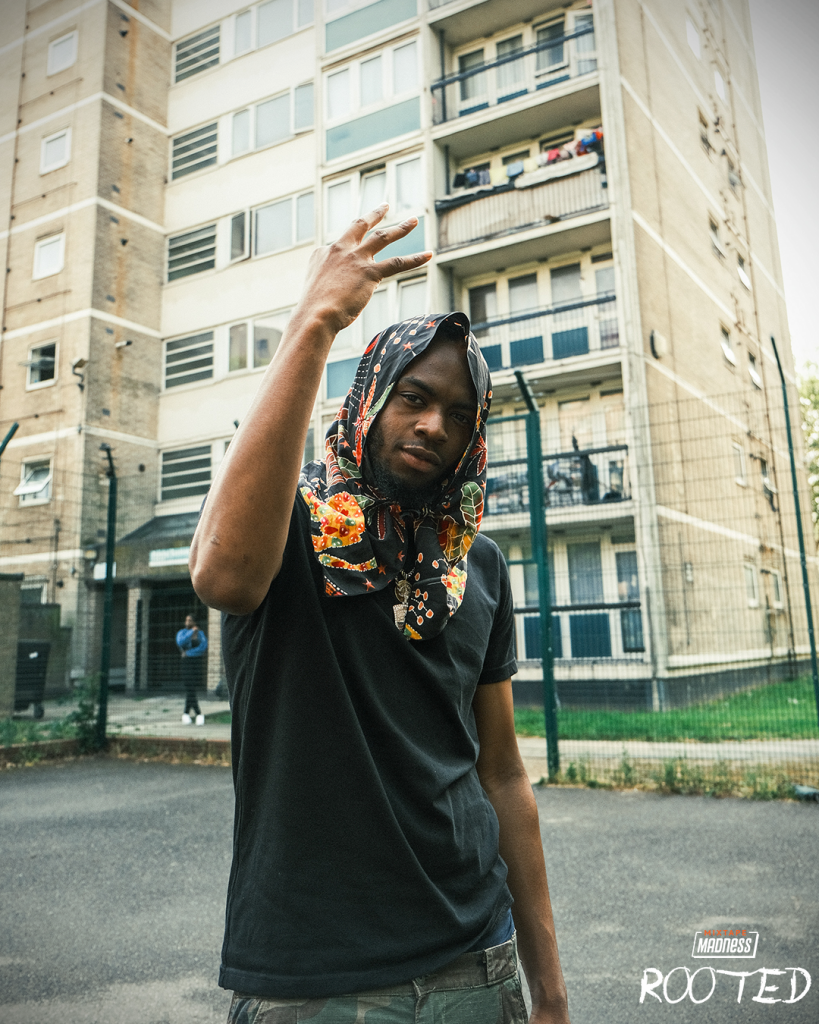 You made a lot of noise in the afroswing scene and there is a lot of talk of it coming back, do you think it'll make the comeback people are predicting?
I don't think it has left anywhere. I think it's only gotten bigger and stronger, especially with those living in and coming out of Nigeria like Rema; Burna Boy; Davido; CKay; Fireboy (DML); the list goes on and on. (Also), Victony; ODUMODUBLVCK; King Perryy; Wizkid; it does not stop. That has been over the years and since Afro has found its way, these man have done their ting. Regardless, they've done their thing with different people being on their ting, as well (as) with the likes of Drake, and anybody else.
With that being said, I don't feel like it has gone anywhere. I even feel certain tunes like them man are making are afroswing, they are not just fully Afrobeats. I think it's only gotten bigger and bigger, and for the U.K. scene, it just needs that sense of confidence and drive to know that we are Nigerian or African. Whether you be from Ghana, Tanzania, (or) wherever you are from, we are Africans and can do this thing as much as everybody else that is from Nigeria and Africa and doing it well.
Outside of making music, what other interests do you have?
I love helping people make music and getting somewhere with their music. There are quite a few people (where) I have been a part of their journey and success story, which I am proud and happy about. It makes me want to keep going. Being able to change people's families and their lives because I have seen my life and my family's life change within it, it makes me happy. Just building up and developing up-and-coming and unsigned artists until they are signed or known to you guys and everybody else.
Also, I want to get into acting, but, I want to do it on a big scale; movies you'd never expect me to be in. There are a couple (of) other things I have in the works, but I'd rather (wait) till it happens.
That is good to see that you're trying to help others to achieve their dreams. I saw you had a few, little acting credits.
Just some little ones like 'Shiro's Story' (Part 3). Big up 'Shiro's Story' either way. That was sick and to be a part of that when Rapman gave me the call was lit.
Being able to change people's lives is a big thing for me. It gives me the drive to keep going and to know that it's not just my own life that can change. I've got water wells and boreholes in Nigeria that I have been building. That is my own charity/foundation that I have been doing since 2018. I want to keep doing that and build 500. I've got 5, I want 500. I just want to keep impacting people's lives today. Even if I have made you smile today that makes me happy.
If more people do good in the world, that will make it a better place.
I just focus on myself, I don't even focus on everybody else. It's up to them. They want to do bad or good, that is none of my business. I don't see it as just a good thing, I see it as a standard thing. It's like being a good dad. You can't really be a good dad, that is just a standard position you play.
My son, that is another interest. Flying out to go see him and staying with him; chilling with him; dealing with him at his swimming lessons. Being able to give him the opportunities I didn't have is lit, as well.
In terms of fatherhood, what has it taught you about life?
Damn, what a question. I started to think about more in the sense of what my parents could have gone through in their time. I let a lot more off the hook than when I was younger when I didn't have a child. My thought process then was a lot different from now; how I might see my parents compared to how I see them now. There was a lot that my mom taught me in her being a mother. I learnt the dos and don'ts from her and what she's done with me and my siblings. Me being the older sibling, I felt like a father to my siblings.
It's taught me a lot and patience is a big thing. I feel that a lot of the reasons why our parents might have shouted at us, hit us, or whatever the case is, is due to a lack of patience. With my son, I am so, so patient and I've learnt that through being a dad. That has taught me to be patient with everything in my life, as well. Even with music, it's just patience. I know what I am doing as opposed to without knowing.
What's in store in the future for Not3s?
A lot still. It's a big shop, bigger than Costco. There is a lot in store. (ba-dum, tss) I've got an Afro tape that is coming out very soon. It's got some mad features on there and some nice collaborations in the sense of producers on there. That is eight tracks. Right after that, I got a mad mixtape. A mixtape full of madness, no pun intended. (laughs) It has some sick U.K. features on there. I'm grateful for the people on there. That should be entertaining.
As I said before, some acting stuff. I don't want to talk too much about it. But, it is in the works and I should be flying to America soon for it. That is going to be fun. Just a bigger and better Not3s. Nothing has really changed, I am still the same cheeky chap.
Not3s is on Instagram, Twitter, and TikTok. Be sure to check out other Rooted interviews here.