'KILL THE BILL' PROTEST IN BRISTOL TURNS VIOLENT
Both police and protesters were left injured in Bristol after the "Kill the Bill" demonstration turned violent last night.
Thousands turned up to oppose Priti Patel's controversial new Police and Crime Bill, scaling a police station, throwing fireworks, setting police vehicles on fire and graffitiing. شرح لعبة بينجو
By all accounts what began as a sit-down protest outside the station escalated with riot police, dogs and police horses were deployed and police station windows were smashed. bet365 sports
Mask wearing protesters were seen holding placards saying "Say no to UK police state" and "Freedom to protest is fundamental to democracy" and "Kill the bill".
Home Secretary Priti Patel described the events as "unacceptable".
"Thuggery and disorder by a minority will never be tolerated," she said. "Our police officers put themselves in harm's way to protect us all."
Twenty officers were injured during the clashes on Sunday night, one of which with a suspected punctured lung having been stamped on by a rioter, a senior Avon and Somerset Police officer said. 
Avon and Somerset Police Federation chairman Andy Roebuck said: "This is the worst violence in Bristol for many, many years. 
"It's really unprecedented violence. Between four and six or possibly more officers are seriously injured and some have broken bones. مراهنات سباق الخيل No-one had any indication it would erupt this way."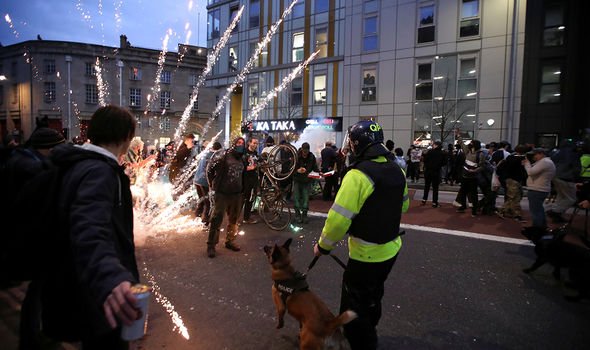 "There was a hardcore of serious criminals hidden within those 3,000 people – perhaps 400 or 500 people – and we certainly didn't trigger this."
Mayor of Bristol Marvin Rees believes a number of the violent "Kill the Bill" protesters were from outside of the city: "I don't know what the proportions are, but I do suspect that a number were serial demo-attenders who are looking for any opportunity to engage in physical confrontation with representations of what they see as the establishment."