SHOW REVIEW: 'Champion' Adds A Very Needed Heat To Our Summer
Enthralling. Emotional. Addictive. Best-selling author, Candice Carty-Williams, further enhances her portfolio with her debut TV series, Champion. This comes after her celebrated novels: People Person and Queenie.
The music-based drama, set in South London, initially focuses on Bosco Champion, a flourishing young rapper aiming to cement a long-lasting name for himself in the scene, following his release from prison. He works relentlessly in hopes of getting back on track; however, it doesn't transpire without hiccups on the way. On the other hand, his sister, Vita Champion, is subtly venturing into the music scene — a decision that does not go down well with the family, especially with her brother. As both strive for success in the immensely competitive U.K. music scene, pressure mounts, causing a family divide in the process.
Bosco is played by Malcolm Kamulete, recognised for his groundbreaking role as Top Boy's, Ra'Nell Smith. In Champion, he dons the role of a boisterous, erratic, and hungry individual, determined to stand proudly on his 'me against the world' attitude to fuel his drive. Kamulete's effortless performance as Bosco hooked me from the first second, as he flaunted his acting maturity throughout. When speaking to the BBC about the character, Kamulete said: "Today, Bosco goes angry tomorrow, then Bosco is depressed, the day after Bosco is happy. It's like he doesn't even have enough control over who he is to understand why he's feeling the way he's feeling."
Déja J Bowens who plays Vita, flourishes in — you will be surprised to know —  her first-ever TV role. She is a readymade star, and her enchanting portrayal as Vita is one of the shining lights of the series. The cast's core is filled with the following seasoned actors: Jo Martin, Nadine Marshall, Ray Fearon and Karl Collins. Their individual performances highlight the acting proficiency they acquire, allowing them to flawlessly fit into their given roles.  
The series brilliantly commemorates Black British music in all its diversity. Bosco and Vita live in a Jamaican household, a culture that, as expected, is heavily engraved within the show. The influence Jamaican culture has on Black British Music is undeniable — projected in the nuances of a vast number of songs birthed in the U.K.

Moreover, the multitude of subgenres that Black musicians excel in are heavily visualised — only placing a brighter spotlight on their versatility.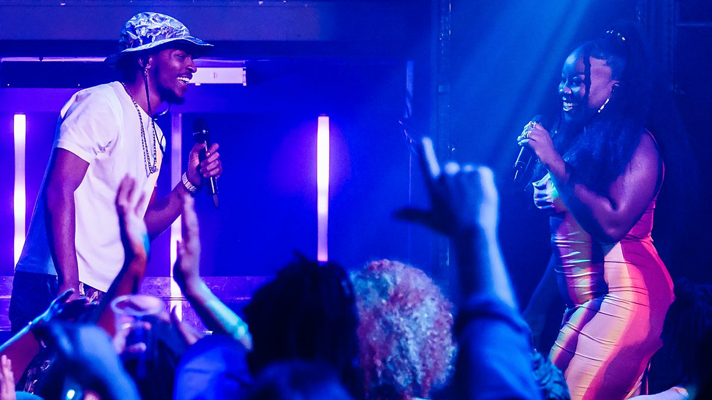 The immersive camerawork on display during the on-stage musical performance is seamless. Alongside the two protagonists, Bosco and Vita, fellow co-stars didn't dwindle when it mattered. Birmingham rapper, and Bosco's rivals, Bulla (Corey Weekes aka Corz) and Rusty (Keiren Hamilton-Amos) displayed commendable clarity and conviction when they touched the mic. With Champion wishing to succeed in its musical aspect, enlisting some of U. K's finest to aid the desired attack sufficiently was essential. By Accomplished? Absolutely. The wordsmith and Grime Pioneer, Ghetts, joined the show as a music executive, having also written lyrics for Bosco's engrossing journey. Winner of BBC's Sound of 2017, Ray Blk, also joined as a music executive music and made her acting debut as Vita's best friend, Honey. Her writing prowess and soulful voice helped create the song, 'My Girl,' an addition to the addictive Champion soundtrack.
If you strip it down to its simplest form, the music brings the show to life. The sounds, lyrics, and feelings it provides equate to escapism – teleporting you to another dimension, no matter where you are. And personally, as a Black person watching the show, I appreciated the mainstream platform given to Black British music. The series' original music is a beautifully constructed work of art, with M1llionz, MNEK, and Debbie providing their own expertise. On the music selection, when speaking with BBC, Ray Blk declares: "The music in Champion is integral to the characters because it reflects their personalities, it reflects what they are going through."
In the last two decades, Black British music has grown remarkably. Reggae, Garage, Grime, and Rap have all been part of the memorable surge, and evolution of the U.K. sound, specifically in London. The series incorporates legendary songs such as 'Do you really like it?' by DJ Pied Piper & The Masters of Ceremonies and '21 Seconds' by So Solid Crew. The cultural impact has been astonishing, and with the representation it holds now, the praise must remain consistent — even better, more notable for more to bear witness to it.
The demand for a digital version of the original tracks has been high, so high that the show's soundtrack has officially been released on Spotify. Released by 0207 Def Jam, the 26-song showpiece epitomises the Black British music scene at present. The mood-lifting, enthusiastic sounds are plastered across the soundtrack, making it an exceptional listen. Each song can individually shine on any radio platform and DJ set. Ceebeats' genius reinvention of 'Overload,' originally performed by legendary British girl group, Sugababes, was a pleasant surprise. First heard during a studio session with Bulla, Vita, and Honey – they were given their well-deserved flowers. With the earlier mention of Ray Blk and Ghetts as music executives, it boasts further contributions, including the experienced singer-songwriter, Shola Ama.
The show explores hard-hitting topics such as sexism, mental health, and the complex dynamics of friendship and family. Speaking with BBC about the latter, Déja J Bowens explains: "There is a lot of family conflict but I think that's due to hidden skeletons in the closet, what they haven't been able to talk about openly."
The meticulous navigation of each topic and the accompanying scenes were amazingly executed throughout. The authentic, diligent writing was sustained by Carty-Williams, and a team of writers consisting of Edem Wornoo, Isis Davis, Ameir Brown, and Emma Dennis-Edwards.

Candice Carty-Williams' purposeful, tireless endeavours to bring her vision of Champion to life have not gone unseen — with the snow receiving plaudits daily. The cast and crew deserve all their accolades for releasing a show that has all the potential to become a cult classic. If you require further encouragement to watch it, this is what Carty-Williams told the BBC: "There is something about what happens with family and music, the heart and pain that comes together really beautifully in this show. We've packed so much good stuff into each 45 minutes and it looks really beautiful."
The production, dialogue, directing, styling, and storyline are all noteworthy. Taking all these qualities into consideration, especially following the season finale, a second season must be on the cards.
Consisting of eight episodes, Champion is available to watch on BBC iPlayer and will be streamed on Netflix worldwide soon.